Wednesday, May 18, 2011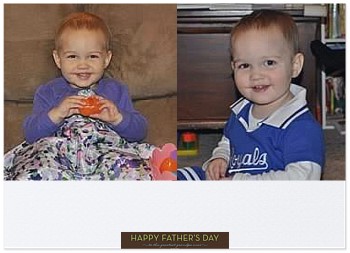 Best Dad Cocoa Father's Day 5x7 folded card
Click here to see graduation announcements by Shutterfly.

Posted by

Michelle
at 12:02 PM
No comments:


Friday, May 13, 2011
Yep, you read that right. This past Wednesday night (as in two days ago), I taught a class. Well, two actually.
I taught two sessions on Couponing through our city's sports and recreation department.
And let me tell you, it was a little nerve wracking!
Being up there in front of about 25 people (twice!), might not seem that hard to some people, but I was definitely a little shaky.
I am a PR gal. I'm the girl behind the scenes carefully crafting statements and planning events. I am not usually the one that talks in front of people.

I did know some of the people there, so it wasn't too bad, but I am still proud of myself for going outside of my comfort zone and teaching the class to some wonderful ladies.
And it's definitely something I am passionate about. I started using coupons in 2007 and was hooked. When I was pregnant with Hannah and realized how expensive having a little one would be, I really got into planning my trips and stocking up when I got a great deal. Now, I am a seasoned 'couponer' and love that I have cut my family's grocery bill by more than HALF.
Yes, you read that part right too. HALF.
So, when you see me out shopping with my big ol' binder, know that I am pretty proud of being a crazy coupon lady! ;)
Now for the most important part: this Saturday is
Stamp Out Hunger
, a program through the United States Postal Service that collects food for your local food pantries.
So, when you are out scoring great deals at the grocery store today, grab some extras and set them by your mailbox. Or raid your pantry and set out a big box of food. You'll be helping those less fortunate.
Have a good weekend!
-M
Posted by

Michelle
at 2:12 PM
No comments:


Thursday, May 5, 2011
Haven't posted for a while. Life's been pretty crazy around the here. So, I thought I'd give ya an update on the happenings of the Whitesell household...
First off, we put our house on the market.
Isn't it cute?
If you're interested in a cozy 3BR, 2 Bath house, email me! ;)
So, we've been busy cleaning and making small updates so we could get it ready to sell.
I have been traveling for work a lot - as in almost. every. week.....which is fine, I love my job, but I have already been to KC more this year than I did in 2010 total!
Joe's been busy at work. They always seem to pick up this time of year. Maybe more people have athletic injuries as the weather starts to warm up?
Hannah keeps us the busiest. She is running, climbing, jumping, talking and testing us every moment of the day. And I LOVE it. She just keeps us on our toes!
Easter 2011
Coloring Easter Eggs. She had a blast with the crayon.
Go Royals!
Reading - her favorite activity. Note the crown on her head...ha!
Plus, I am preparing to teach a class next week on Couponing and Price Matching. I am super excited to help 40 ladies learn to cut their families' budgets! I save 65 percent on average of my monthly grocery budget - and I want to help others do the same! :)
It's been a busy spring already - and it's just going to keep getting busier!
So...there's a little update on our family?
How is everything in your neck of the woods?
Posted by

Michelle
at 11:12 AM
1 comment: